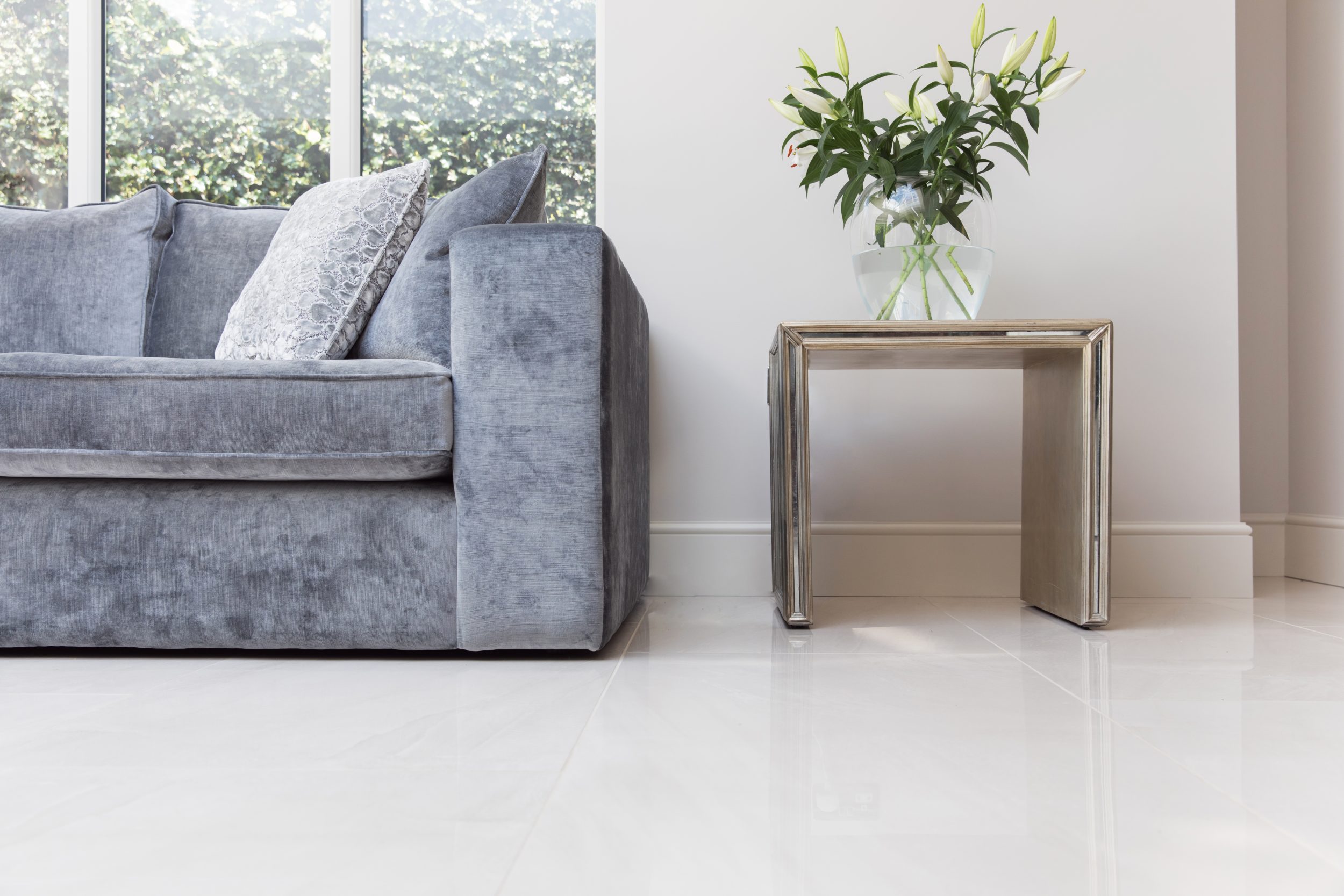 Project: modern and sleek flooring
Location: Leeds
Type of property: a 1950s bungalow extensively renovated and expanded
Floor areas: 100 m2 open plan kitchen and lounge, flowing into each other, plus a hallway
This beautiful property in Leeds was being finished to an exceptional standard. The owners wanted a modern porcelain tile floor to match. They had already selected and sourced the tiles, specifying which tile they wanted in which area.
Timings of floor tile installation
We met with the owner on site two months before installation to discuss the details. As the floor was being laid before the kitchen installation, our timescale would impact on the other tradespeople.
Floor layout planning
Open plan floors need to be planned meticulously. We agreed to have the start point of the tiles in the hallway. This meant it was crucial that that hallway tiles ran down the centre, and were centralised to the front door.
Porcelain tile pattern
The tiles were an opulent polished porcelain with a square edge and 1200 by 600 mm. Such large tiles have a tendency to bow slightly if laid in a 50% brick bond pattern. We therefore advised a 30% offset.
Existing floor
As we were working on a fresh new build section of the property, there was no need to level the floor. However an underfloor heating wet system had been pre-installed. This means the floor would expand and contract with heat. We therefore installed an anti-fracture matting on top of the floor screed to prevent the tiles from cracking.
We also tested the moisture content of the floor to make sure it was sufficiently dry before we started tiling to ensure maximum adhesion.
Porcelain tile floor installation
The square edge of the tile meant we could use a clip levelling system. You push each tile together to make them level.
The width of the grouting was minimal, just 3mm, so we could achieve an almost seamless mirror effect. A buffer polish was the final touch.
Project challenges
In a new build, it's always a challenge to fit around other trades. As they can't levitate, finishing the floor quickly so it can be walked upon is very important. But we all managed to work around each other and get the job done.
Owners' reaction to their porcelain floor
The owners were very happy, and recommended us to others. We also were employed to tile the property's bathrooms and the sun room overlooking their extensive garden.